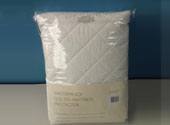 T/C waterproof quilted mattress protectors
Contact:Jingyang
Phone: 27833080
Email: jyang@textile-tianjin.com.cn
Widely used in hospitals, rehabilitation institutions, nursing homes, and family. This product is a hospital surgery, maternal care, child care, paralysed, incontinence, action inconvenience, women's menstrual period, travel, pet ideal health supplies. Is simple to use, health, clean, soft and comfortable, moisture absorption effect for preventing leakage, it can not only ensure the user body dry and comfortable, prevent smudgy sheet, mattress, lighten the burden of work staff and family members at the same time, from the hardship of daily change the sheets, is an ideal products to hospitals, home care.
Type
Packing(PCS/Carton)
FOB TIANJIN
Single
90 x 190 x 23cm (35.5 x 75 x 9 inches)
11
4.75
Double
135 x 190 x 23cm (53 x 75 x 9 inches)
8
6.10
King
150 x 200 x 23cm (59.5 x 78 x 9 inches)
7
6.65
TOP ABRIC
T/C 65/35, 45*45S, 86*64, BLEACHED WHITE.
BOTTOM FABRIC
NON-WOVEN FABRIC OF 50 GSM
FILLING
ANTI-ALLERGENIC FILL OF 80 GSM
Pcking and shipping: Each piece in a resealable PVC bag with a content/size sticker,the in usual export cartons.

The above quotation is based on 1 20"container. Around 500 cartons could in One 20"container. Conversion to pieces is around 4000-4500pcs.(as which size you choose)This is our mini order quantity.